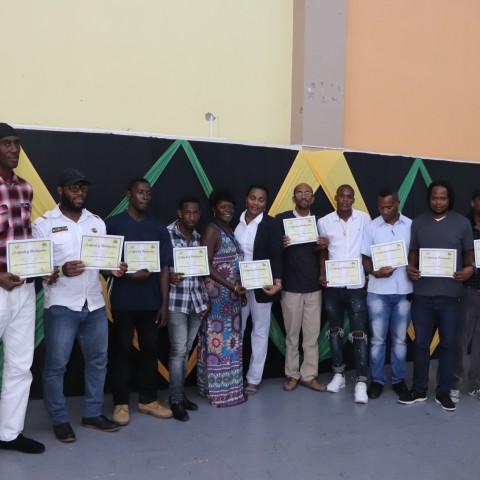 As early preparations continue for the 2019 Festival Song Competition, the JCDC recently hosted the second of two workshops aimed at helping contestants sharpen their skills as they prepare their entries for the contest. The workshop was held at the Hollis Peter Lynch Hall, Westgate, Montego Bay on Thursday, March 7.
Prospective entrants were taken through the rudiments of song writing, song production, vocal management and image and branding by a team of expert trainers.
Delivering the sessions were renowned digital producer, musician and engineer Paul "Computer Paul" Henton; Keyboard player and producer Nigel Staff; Classical singer and vocal trainer Rory Frankson and the JCDC's Director of Marketing and Public Relations, Andrew Clunis.
Participants said they found the sessions to have been informative and inspirational and are looking at how they can fine tune their entries for this year's competition.
Chairman of the JCDC Mexine Bisasor who brought greetings urged the participants to try and create the very best songs possible to apply the knowledge they would have gained from the sessions. She reminded them that the Festival Song Competition is the oldest professional talent competition in Jamaica, having unearthed talent like Toots and the Maytals, Eric Donaldson, Roy Rayon, Tinga Stewart and others. She told the audience that Jamaica's culture was in great demand overseas and they should use the Festival Song Competition as a platform to launch their careers.
The first workshop, which represented the Eastern Region, was held at the Jampro Auditorium in Kingston on March 5. Among the presenters on that occasion were song writing coach Mikey Bennett, vocal coach Pat Gooden along with Nigel Staff.
The deadline for entries for the competition is Friday, March 29.
Following the submission of entries, a panel of industry experts will select the songs that will make it to the semi-finals where the top ten who will participate in the island wide tour will be showcased before a winner is selected at the final show in July.