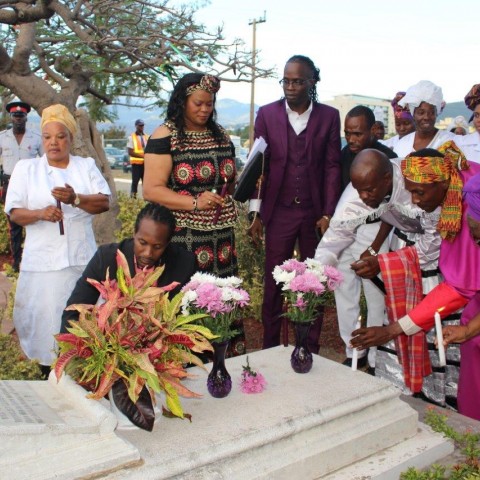 The Jamaica Cultural Development Commission (JCDC), an agency of the Ministry of Culture, Gender, Entertainment and Sport, celebrated the 108th anniversary of the birth of the late Mallica 'Kapo' Reynolds, OD, renowned Jamaican artist and religious leader, with a soulful, Revivalist gathering at National Heroes Park, on Sunday, February 10.
The gathering was attended by friends and family of the late Kapo, as well as numerous leaders and members within the Jamaican Revivalist Church.
The Honourable Alando Terrelonge, State Minister within the Ministry of Culture, Gender, Entertainment and Sport also brought greetings on behalf of his ministry.
"Today we honour and celebrate the life of the great Mallica 'Kapo' Reynolds, a true artist and visionary, who deeply affected the lives of everyone he came across. Kapo's work proudly lives on, long after his death and his contribution as a Jamaican artist to both Jamaican culture as well as to building brand Jamaica on the international art scene is invaluable," Minister Terrelonge said.
Mallica 'Kapo' Reynolds' work is highly praised and was most influential throughout the 1970s, with his influence continuing beyond his death in 1989.  A member of the "Intuitives" artistic movement, Kapo holds many accolades and is considered one of the greatest Jamaican artists of his time. His awards include: a Gold Medal from Emperor Haile Selassie during his visit to Jamaica in 1966; a Gold and a Silver Musgrave Medal from the Institute of Jamaica and the Norman Manley Award for Excellence in the Fine Arts.
Kapo's works have also been exhibited internationally, including six exhibitions in the United States between 1953 and 1982. In Addition, his painting "Shining and the Spring" was selected by the Jamaican Government as a wedding gift for the 1981 union between Prince Charles and Lady Diana.