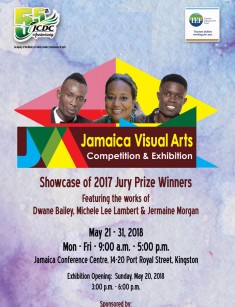 Sunday, May 20, 2018 - 03:00
The top three winners of the Jamaica Visual Arts Competition's coveted 2017 Jury Prize will see their works exhibited at the Jamaica Conference Centre, Port Royal Street, Kingston, from May 21 to May 31. The exhibition, which will be launched on Sunday, May 20 beginning at 3:00 pm, will feature the works of outstanding artists Jermaine Morgan, Dwane Bailey and Michele Lee Lambert who received the first, second and third overall awards, respectively.
The competition's coveted Jury Prize is given annually to the top three artists with the best overall work, who are selected by a Jury of adjudicators who are notable artists within the Jamaican Art Industry. The exhibition, which runs from Monday to Friday, 9:00 am – 5:00 pm daily is free and open to the public.