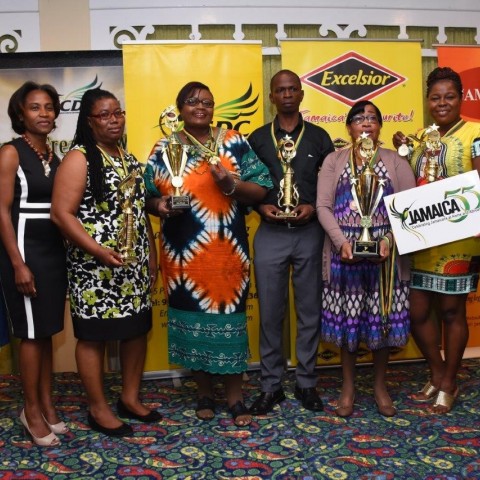 Kingston Jamaica: The top writers in the Jamaica Cultural Development Commission's (JCDC) Jamaica Creative Writing Competition were awarded recently in a ceremony at the Knutsford Court Hotel. The annual awards ceremony saw over 70 outstanding amateur and professional Jamaican writers who entered their creative works in the categories: Poetry, Short Stories, Novels, Essays and Plays being awarded with cash prizes, certificates of merit, medals and trophies.
The crème of the crop awardees included: Gloria Malcolm Foster, who was named the Best Overall Writer, while 2nd place went to Joan Francis who was also named Outstanding Writer. The third place and Special Writer award was copped by Rohan Facey and 4th place and Choice Writer award given to Malachi Dermot Smith. Noteworthy Writer, Danielle Willie was awarded 5th place.
Other top awardees at the August 15 awards ceremony included: Best Intermediate Playwright – Fitsroy Randall, Best Adult Playwright – Michelle Ashwood, Best Intermediate Essayist – Jeffery Johnson, Best Adult Essayist – Joan Francis, Best Junior Short Story Writer and  Best Intermediate Short Story Writer – Latoya Wakefield, Best Adult Short Story Writer – Lesley-Ann Wanliss, Best Intermediate Novelist – Robert McCarthy, Best Adult Novelist – Hugh Martin, Best Junior Poet – Marie A. Cameron Francis,  Best Intermediate Poet – Gloria Malcolm Foster and Best Adult Poet - Malachi Dermot Smith.  
"Each year we use the Jamaica Creative Writing Competition and Exhibition's Award Ceremony celebrate the best that the ever-expanding Jamaican literary fraternity has to offer." Said Director of Marketing and Public Relations at the JCDC, Stephen Davidson.
"These outstanding amateur and professional writers pour their souls into their creative works, and the JCDC stands committed to honoring that effort by unearthing, developing showcasing and preserving their noteworthy works." He continued.
Organised by the JCDC, an agency of the Ministry of Culture, Gender, Entertainment and Sport, the Jamaica Creative Writing Competition has been one of the best channels of providing writers with the opportunity of recognizing and validating their writing talent, while showcasing and promoting writers and their original work.
The award-winning pieces of the 2017 Jamaica Creative Writing Competition are currently being showcased in the competition's annual island-wide tour which will end in April 2018 and cover all 14 parishes. The winning pieces will be hosted in major and parish libraries to give members of the public the opportunity to appreciate and recognize the award-winning works. The pieces are also featured online at the JCDC's website, www.jcdc.gov.jm
Photo Caption
Left to Right: Joan Pinkney, Licensing and Member Services Manager, Jamcopy, Gillian Wilkinson- McDaniel, Senior Director, Entertainment Policy and Monitoring at the Ministry of Culture, Gender, Entertainment and Sport, Arlene Daley, representing Malachi Dermot Smith, Choice Writer – 4th Place, Joan Francis, Outstanding Writer – 2nd Place, Rohan Facey, Special Writer – 3rd Place, Yvonne Malcom Scott representing Gloria Malcolm Foster, Best Overall Writer – 1st Place, Juliet Johnson-Clarke, Noteworthy Writer – 5th Place and Orville Hill, Interim Executive Director of the Jamaica Cultural Development Commission (JCDC).