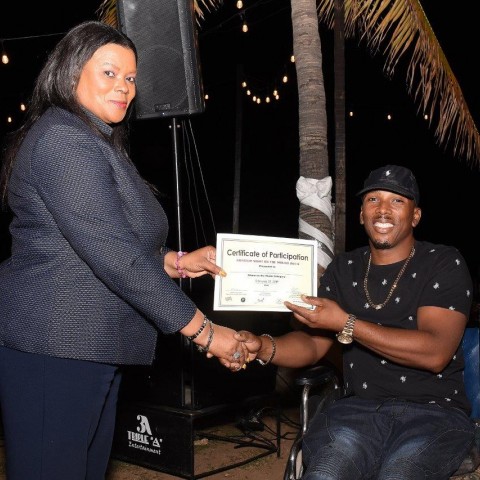 Amateur Night on the Mound, the Roots, Rock and Reggae based talent competition series held amidst the Reggae Month 2019 celebrations, saw scores of patrons turn out for the Grand Final on Tuesday, February 26 at the Victoria Pier, Kingston Waterfront.
A joint venture with the Victoria Pier establishments: Island Coffees Café, Devon House Ice Cream and Board Walk Bistro, in association with the Jamaica Cultural Development Commission (JCDC), Amateur Night on the Mound highlighted upcoming singers, disc jockeys, dub poets and musicians every Tuesday night throughout the month of February.
The Tuesday's grand final saw a talent showdown with the top eleven winners from the previous three shows held on February 5, February 12 and February 19, compete in two main categories, Music and Poetry.
Once the smoke cleared, the judges and audience alike chose Cosmo Watson, stage name the Real V.I. as the winner for the Music category, while Craig Kirkland, who performs under the name Amaziyah the Great took home the top prize for Poetry. Both winners received a cash award of ten thousand dollars.
Second place in the poetry segment went to Miko Thompson, who performs under the name Marshall X, while second place in the music category went to Kimoy Ellis, stage name Flames Eye, with both performers receiving a cash award of $5000. Meanwhile, only the music category saw a third place finalist, which was Ricardo Thompson, stage name Power Yute,  who received $1000 gift certificates from both sponsors Island Coffees Café, Devon House Ice Cream.
The other finalists, all of whom fell under the Music category were Cadine Tyrell, stage name J'Can Alien, the duo of Kimani Henry and Everton Marshall who go by the stage name Tantrum and Eminent, Alex Andre Webb, whose stage name is Alias, Tiffany Thompson, stage name Tiffy T, Richard Prince, stage name Dirty John Crow and Dwayne Hall, stage name Simeon.
Amidst all this excitement, spirited guest performances were also given by 2012 Jamaica Festival Song 2nd place winner Tashina McKenzie, a local reggae songbird, Kvibez and 2018 Jamaica Festival Song Winner, Nazzleman.
"We are exceedingly proud of all the finalists here tonight, they certainly showed up and out! But I want to give a special congratulations to the winners of both categories, you made both yourself and this humble competition proud!" said Daffodil Thompson, Interim Executive Director at the JCDC.
"The turnout tonight shows just how much this competition has grown over the past few weeks, and just how talented the people of our little, but talawah nation truly are. The JCDC will continue to do everything within our power to unearth, develop, preserve and showcase the talents of the Jamaican people," Thompson continued.