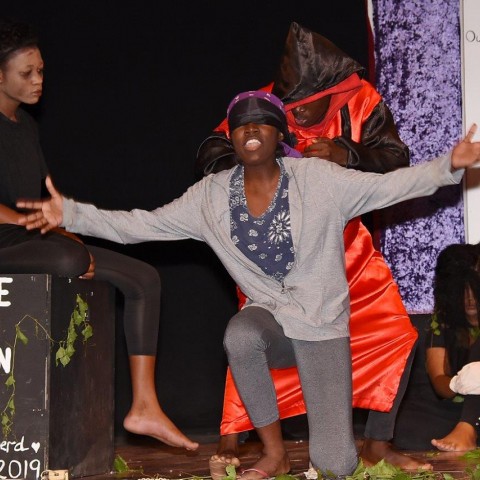 Kingston, Jamaica: Audiences were treated to an exciting lineup of performances, sprinkled with high concept items at the Drama National Finals of the National Festival of the Performing Arts, held at Little Theatre in Kingston on Thursday, April 4 and Friday, April 5. 
A staple program of the Jamaica Cultural Development Commission's (JCDC) festival calendar, the National Finals of the Festival of the Performing Arts competition serves to showcase Jamaica's most brilliant talents in the areas of Traditional Folk Forms, Dance, Drama, Music and Speech. 
Mr. Shaun Drysdale, Drama Development Specialist at the JCDC spoke on this year's festival surpassing his expectations.
"We got some surprises from parishes that we've never seen before. For example, St. Ann had a church group called 'Most Hilarious Group', it was their first time entering and they made it here to the National Finals." Drysdale expressed. 
He further stated that it was fulfilling seeing young creatives gaining the experience of being in a real theatre and learning from each other throughout the process. 
While Drysdale expressed that he was impressed with the stellar performances that took place over the two-day festival, audiences also shared that sentiment; with finalists from across the island bringing the best they had to offer, leaving the Little Theatre enraptured in laughter and cheer, and at times, calm and intrigue as different concepts unfolded on the legendary stage. 
Among top contenders were Kingston and St. Andrew's Ardenne High School, Hanover's Green Island High School, and Kingston and St. Andrew's Clan Carthy Primary School, the Vocational Training and Development Institute (VTDI), and Mona Preparatory, among others.
High concept pieces included St. Mary's Tacky High School's Experimental Drama titled Ring Games with its eerie lighting, and psychological overtones, tackling issues such as teenage sex and pregnancy. 
Another gripping piece was Green Island High School's Labour Pain in the One Woman Category, which follows an expectant mother battling anxieties and fears about motherhood. 
Meanwhile Clan Carthy Primary School's "Jasper Comes to School" was a crowd favorite for its high comedic value, clever and impactful musical integration in its narrative, depicting the trials and triumphs of young boys coping within a learning environment. 
Day two of the festival saw naming of the competition's overall category winners. 
Mona Preparatory School came away with awards for Best Overall Costume, Best Overall Director, which went to their teacher Brian Johnson and Best Script, for their play Weather or Not. Young actor Damijae McCalla, who plays the role of the Prosecutor in the play also swept up the award for Best Overall Actor. 
Best Ensemble Acting went to St. Mary's Tacky High School for their production Ring Games, which fell under the experimental category. 
Best Overall Design went to Manchester's Decarteret College (DC), who also swept away an award for Best Overall Technical Management. 
VTDI came away with Best Overall Dramatic Production for Many Will Play, an Experimental Drama piece, which also landed an award for Best Overall Actress for promising young actress, Abigail Wilson. 
For over 50 years the National Festival of the Performing Arts has served to preserve Jamaican culture by way of developing, and showcasing the best the island has to offer. Since then the competition has seen talents put to the test in the areas of Traditional Folk Form, Drama, Speech, Music and Dance. 
The 2019 National Festival of the Performing Arts is sponsored by the CHASE Fund, the Kingston and St. Andrew Municipal Corporation (KSAMC), Digicel Foundation, Excelsior, MultiCare Foundation, Happi Ice and Popeyes.