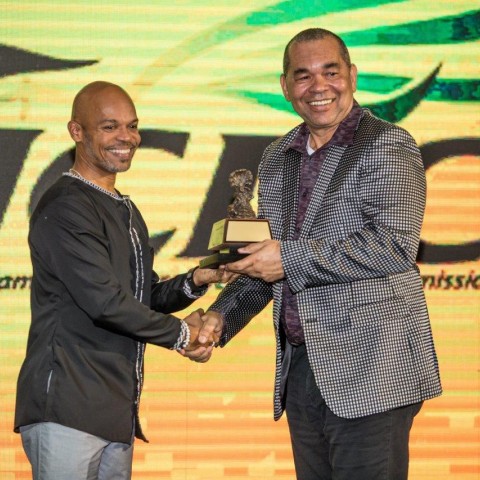 The Jamaica Cultural Development Commission (JCDC), an agency of the Ministry of Culture, Gender, Entertainment and Sport, has become the most recent recipient of the coveted Actor Boy Awards (ABA) Honouree Award. Each year, the prestigious Jamaican theatre based awards ceremony honours a person or institution that has made a significant contribution to the theatre arts over the years.
"This year, the ABA Committee decided to honour the JCDC as having played a major role in unearthing and developing Jamaican talent through the Festival of the Arts and other programmes being run over the decades. Many of these talents have been some of our popular actors/actresses and other theatre practitioners. The JCDC has been the starting point for so many of our theatre fraternity members. It was only fitting that we paid special tribute to the JCDC" said ABA Co-producer, Maurice Bryan.
"The JCDC is honoured to receive this award, especially amidst our 55th anniversary celebrations. The Commission has dedicated over five decades of service to the unearthing, development, showcasing and promotion of Jamaican Culture, especially in the field of the Performing Arts and we feel a special swelling of pride to receive such a distinguished nod."  Said Interim Executive Director of the JCDC, Orville Hill.
Organized by the JCDC since 1963, the National Drama and Speech programme has been recognized for many years by both technical and creative crews as one of the best channels for recognizing and validating dramatic talent and showcasing and promoting creative teams and their presentations of Dramatic Art.
Some notable theatre practitioners who have benefited from the exposure gained through this competition are Fae Ellington, Dahlia Harris, Tony Patel, Joan Andrea Hutchinson, Karen Harriott, Ruth Ho Shin, Dervan Malcolm and the Jamaican Art Collective and Reggae group No-Maddz.
The Actor Boy Awards (ABA) has been celebrating excellence in the Jamaican Theatre Arts for 28 years. Adjudication of productions is done throughout the year by an expert group of judges, which is followed by an annual awards event where the winners are announced.
Past Honouree awardees include: Little Theatre Movement (LTM) Pantomime, actress Leonie Forbes, musician Jon Williams, Schools' Drama Festival, and set designer Michael Lorde.