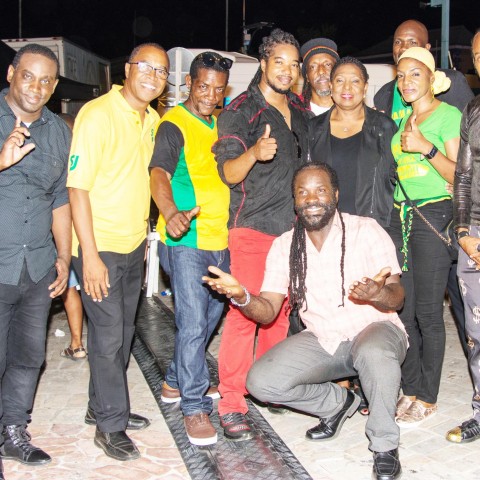 Kingston, Jamaica:  The finalists in the 2018 Jamaica Festival Song Competition will be blazing into Munamar Square, Spanish Town this Friday, June 29 to ignite the Old Capitol with this year's top ten Festival songs. Starting at 6:00 pm, the free show promises to draw a bumper crowd of spectators as the performers try to out-perform each other in anticipation of the Competition's Grand Final in July. Patrons are being asked to come out early so as not to miss a moment of the exciting line up which also includes guest artiste Queen Ifrica and the ASHE Ensemble all backed by Mint Expression Band.
Spanish Town is the final stop on the six-stop Road Show, which also saw the finalists, which includes a mass choir,  blazing a high performance musical trail through Montego Bay, St James, Mandeville, Manchester, Junction, St. Elizabeth, Ocho Rios St. Ann and Port Antonio, Portland throughout the month of June.
"I am extremely pleased with how the Road Shows have progressed so far and I am expecting an excellent final. The crowds have been impressed by the finalists and the songs and I am sure that the top song that will be chosen will be a fitting backdrop to the Independence Celebrations," said Minister of Culture, Gender, Entertainment and Sport, Olivia Grange.
"I am encouraging all Jamaicans to get on board as we continue to build the Festival product and our Independence Celebrations, 2018 is a special year as it's the 55th Anniversary of the JCDC, so the entire country and Jamaicans in the diaspora can expect something spectacular," Minister Grange continued.
The 2018 Festival Song Road Show is a part of a series of promotional activities leading up to the Festival Song Grand Final on Sunday, July 15 at the Ranny Williams Entertainment Centre. Beginning at 6:00 pm, the free concert will see the finalists vying to have their song selected as the official 2018 Independence Festival anthem.
The Grand Final will also be streamed live on the official Jamaica Festival Song Facebook page: https://www.facebook.com/festivalsong/  Youtube: https://www.youtube.com/channel/UCwUwEoab6nNk6KuDh3JnvIA and on the JCDC's website: http://jcdc.gov.jm/ .
Organised by the Jamaica Cultural Development Commission (JCDC) an agency of the Ministry of Culture, Gender, Entertainment and Sport, the Jamaica Festival Song Competition is the longest running song competition in Jamaica and has showcased myriads of artistes and numerous songs which have become the soundtrack to Jamaican life and culture. This competition which started in 1966 has been the driving force behind some of Jamaica's acclaimed singers and song writers and continues to unearth and showcase several talented individuals each year.