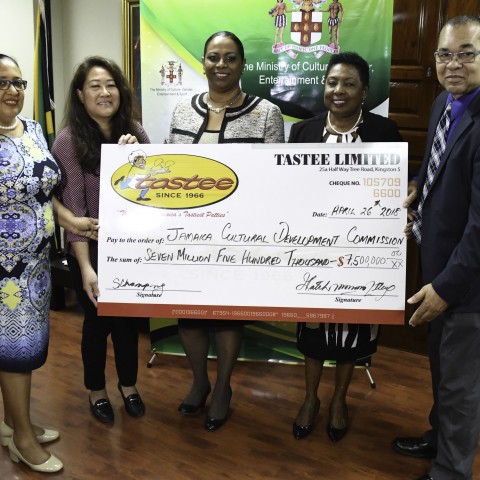 Kingston, 27 April 2018 – The Ministry of Culture, Gender, Entertainment and Sport through its agency the Jamaica Cultural Development Commission has
signed a multi-million dollar deal with fast food chain Tastee Limited in support of the 2018 Festival Song Competition.
The Minister of Culture, Gender, Entertainment and Sport, the Honourable Olivia Grange inked the deal along with Patsy Latchman Atterbury, CEO of Tastee at the
Ministry's Head Office in New Kingston on Thursday. The $7.5 million deal will see Tastee playing an integral role as the competition goes into its final stage with the roll out of islandwide road shows leading up to
the grand finale on July 14 at the National Indoor Sports Centre in Kingston.Minister Grange said the sponsorship support was needed and has come at a
pivotal time.
Minister Grange said: "We are thrilled that Tastee has come on board with the Festival Song thisyear. We did promise that we would make the Festival Song bigger and
better and support like this will go a far towards helping us to achieve thatobjective. We still have some way to go and we are seeking further private
sector support to bring back our Independence Festival to where it needsto be."The ten finalists for the 2018 Festival Song Competition were chosen before an
audience at the Louise Bennett Garden Theatre on Saturday, April 14. Theyinclude a 63-member gospel choir and the 2016 champion Nazzleman.
Plans are now being finalised for the start of the road show which MinisterGrange says will be "taking Festival to the people."
Mrs. Latchman Atterbury said Tastee was delighted to be involved with Festival2018. "We are very happy that we were approached. Exposure of talent is
something that is in our DNA. We were involved with Festival Song in the pastand it feels natural to be back. We want to feel that great festival feeling at
Independence time in Jamaica again. This is something that lifts the nation'sspirit and we are excited to be playing our part."
Orville Hill, Interim Executive Director at the JCDC said the agency is well prepared to execute the staging of the Festival Song Competition and all the
other Festival events.
"The team is ready to go. This year we are celebrating the 55th anniversary of the JCDC so we want to ensure that everything is done in an extra special way.
We are looking forward to putting on a show which will make Jamaica proud," he said. The schedule for the road shows will be announced soon. Meanwhile, the
finalists are going through a series of workshops to fine tune their presentationskills for the tour and the finale.