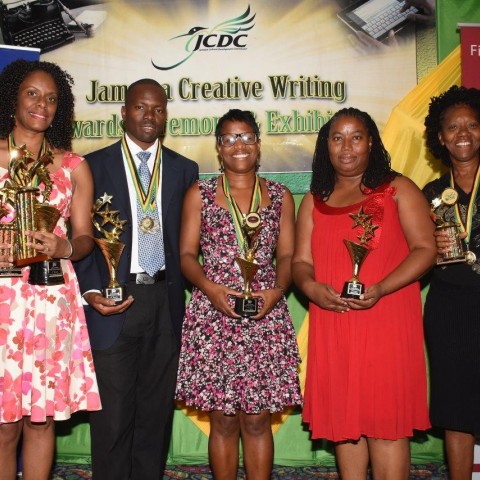 The 2019 Jamaica Creative Writing Competition and Exhibition, a staple programme in the Jamaica Cultural Development Commission's (JCDC) festival calendar, will stop accepting entries today, Friday, May 10 at 3:30 pm.
Completed entry forms may be returned to the JCDC Head Office at 3-5 Phoenix Avenue in Kingston or at JCDC Parish Offices across the island.
Persons still interested in entering the competition can access entry forms, rules and competition guidelines from the JCDC website, www.jcdc.gov.jm, as well as at the Any JCDC Office island-wide.
The competition has been inviting entries in the areas of Essay, Novel, Play, Poetry and Short Story, since September 2018.
Rayon McLean, Creative Writing Development Specialist at the JCDC had this to say about the deadline which was extended back in April: "Due to a demand by the public, we had extended the deadline for the competition to better facilitate last-minute entries. However, today, Friday, May 10, is the final deadline. I am encouraging those who are still interested in using this competition as a platform to submit entries within the given time frame."
"For many years, the Jamaica Creative Writing Competition has provided a platform for Jamaican writers to sharpen their skills and showcase their works like never before. Any writer, aspiring or established, would find an invaluable experience in entering." he added.
McLean reminds persons that they may write on any topic of their choosing. He urges potential participants to enter under the National Water Commission's sponsored theme: "Water is Life, do the right thing: Conserve Water and Save" for a chance at taking home special prizes.
He said, "The Jamaica Cultural Development Commission's  Literary Arts Programme continues to be a platform for recognizing writing talent, by way of validating, showcasing and promoting the original works of writers. But there are also attractive prizes in the form of trophies and gift packages, as well as cash incentives, courtesy of the CHASE Fund and other sponsors."
The Jamaica Creative Writing Competition and Exhibition is divided into three levels: Junior, Intermediate and Adult and awards are given to the top writers in each level of the five areas. Entrants are encouraged to write about the Jamaican experience.
The 2019 Jamaica Creative Writing Competition is sponsored by the CHASE Fund, the Kingston and St. Andrew Municipal Corporation, National Water Commission, Excelsior, Happy Ice and Popeyes.