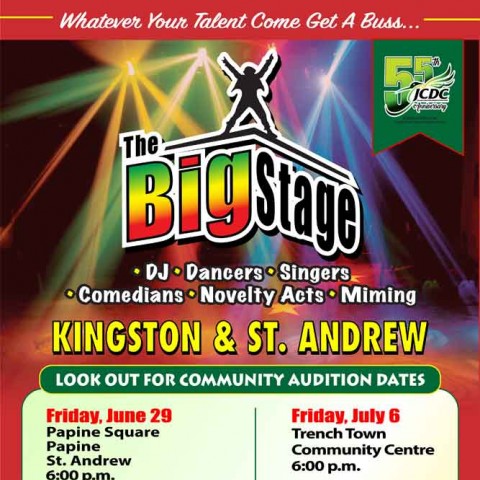 Kingston Jamaica; The Jamaica Cultural Development Commission Kingston & St. Andrew Parish Office, an agency of the Ministry of Culture, Gender, Entertainment and Sport will be hosting several community auditions for its Big Stage Competition across Kingston & St. Andrew. The winners from the competition will have the opportunity to be part of the parish's Independence Festival activities for Jamaica 56.
The first Big Stage audition kicks off Friday, June 29 at Papine Square, followed by Saturday, June 30 at Mandela Park, Half Way Tree, then on Wednesday, July 4, it will be at Rollington Town Square, 27 Giltress Street, Kingston 2. The Auditions continue on Friday, July 6 at the Trench Town Community Centre, then on Saturday, July 7 at Fesco Gas Station, Stony Hill St. Andrew.
This Big Stage Competition will provide a meaningful opportunity particularly to unattached youth in rural and inner-city communities to hone their talents and be exposed.  It will also provide clean, fun and wholesome entertainment for the entire family.
Sutherland noted that each year there is an increase in the number of entries received for competition. She further stated that there are several talented individuals in the various communities across Kingston & St. Andrew who just needs an opportunity to showcase their talent and this competition provides that for them. There is also a development workshop is schedule for Friday, July 13 to improve the finalists' talents in areas such as stage presence, microphone techniques, presentation, audience interaction and general delivery".
Sutherland also noted that there are cash awards, trophies and other incentives for the top three winners. The winners from each audition will also receive a cash incentive.
The Big Stage Competition, has evolved from the JCDC Popular Cultural Expressions/Pop and Variety Contest and Star Search competitions seeks to identify, promote and train talents in the areas of: Dance, Singing, Dee Jay, Stand-up Comedy, Novelty Acts, Magic/Conjuring, Signing and Miming. The competition is opened to Jamaicans ages eighteen (18) years and over for both male and female.
The competition is sponsored by Cal's Manufacturing, Real Vibes Party Wine and Jamaica Biscuit Company. Admission is free.
Entry forms and other details for the competition can be access from the JCDC website at www.jcdc.gov.jm, its social media pages or the Kingston & St. Andrew Parish Office, 36 Hope Road, Kingston 10 or Tele: 960- 7725.