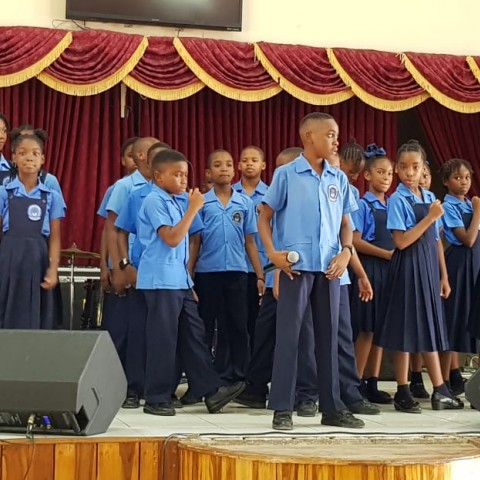 Kingston, Jamaica: The Jamaica Cultural Development Commission's (JCDC) 2019 National Children's Gospel Competition will see its final audition today, Friday, March 22 at the Eastwood Park New Testament Church, Kingston 10, beginning at 9:30 am.
On spot entries will be accepted throughout the day and entry forms will be available on location.
Entry forms, rules and other details are also available online at www.jcdc.gov.jm , at the JCDC Head Office, 3-5 Phoenix Avenue, Kingston 10 and all JCDC parish offices island-wide.
Entrants who were not successful at any of the four previously held regional auditions are also being invited to audition again with a new song at today's audition.
This final audition is the second of two auditions which were scheduled for the Eastern Region, which covers the parishes of Kingston and St. Andrew, St. Catherine and St. Thomas; with the first being held last Friday, March 15, also at the Eastwood Park New Testament Church.
The three other regional auditions were held as follows: the Western Region, covering Westmoreland, Hanover, Trelawny and St. James, at the Hollis Peter Lynch Hall, Westgate, Montego Bay on Friday, February 8; the Northern Region, covering the parishes of St. Ann, St. Mary and Portland, at the St. Mary Anglican Church Hall, St. Mary on Friday, February 15; and the Central Region, covering the parishes of Clarendon, Manchester and St. Elizabeth, at the St. Mark's Anglican Church Hall, Mandeville, Manchester, on Friday, March.
 "All of our auditions so far have really highlighted some promising young talents right across the island, and I look forward to all the outstanding talents that will be unearthed today," Said Andrea McCurdy, Events Coordinator, National Religious Services and Projects at the JCDC.
Since its inception in 2003, the National Children's Gospel Song Competition, which celebrates its "Sweet 16" this year, has been a significant platform for the development of Gospel's youngest and most promising vocalists.
The Jamaica Children's Gospel Competition has three categories: solo, ensemble and choir and two age classes: 6-10 years old and 11-15 years old.