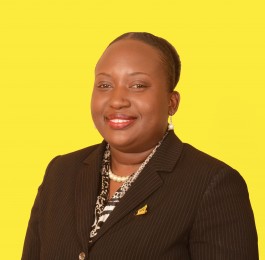 Director, Corporate Services
A proud St. Elizabethan by birth, Elizabeth Smith fell in love with the programmes of the Jamaica Cultural Development Commission (JCDC) before she joined the Commission in April, 2008 as the Research Officer and later promoted to Research and Information Manager. A cultural enthusiast and one who is passionate about customer service satisfaction, she finds it a privilege to be serving in the capacity of Corporate Services Director. It was always a career ambition to be employed at the Commission as she greatly admired the work of the organization.
Her association with the Commission spawns more than 14 years having entered the Miss Jamaica Festival Queen Competition in 2002 for the Parish of St. Elizabeth where she was named the First Runner Up in the Competition. She also served as an active member on both the St. Elizabeth Parish and Festival Queen Committees. In 2003, she entered her school in the Festival of the Performing Arts Competition and was awarded the Most Outstanding Dance Teacher in St. Elizabeth. The school was awarded the most outstanding popular dance group.
Ms. Smith holds a Bachelor of Arts Degree in History and a Master of the Arts Degree in Heritage Studies from the University of the West Indies, Mona. These degrees exposed her to formal training in cultural research methodologies, proposal writing, cultural resource management, museum management and records and information management. While on the Mona campus she was very active in the Department of History and Archaeology's History Club as well as a member of the Faculty of Humanities Committee.  She also served on the Mary Seacole Hall Committee and was Hall Chairperson which made her a member of the Guild of Students of the University of the West Indies, Mona. She was exposed to several leadership training on campus. In recognition of outstanding contribution to Hall life, she earned the following awards: the coveted Seacolite of the Year, Most Outstanding Leader; Most Outstanding Role Model, the Adella Campbell's Award for Outstanding Performance and Most Outstanding Hall Committee Member.
Ms. Smith is a member of the Jamaica Customer Service Association of Jamaica. She is a member of the Ministry of Education, Youth and Information Values and Attitudes Committee. She also served as a member of the Technical Working Group Committee for the National Creative and Cultural Industries Policy, Office of the Prime Minister.
Ms. Smith is committed to the development of the Commission. By creating the necessary customer service environment, she fervently believes that the Commission can make significant strides.